What are spring nuts used for?
When we looking for construction supplier to purchase amount of strut channels, most of them, will suggest you to buy some accessories like spring nuts at the same time. What is spring nut? what are spring nuts used for?
Screws in strut channels are held in place by spring nuts, which are one-piece, self-locking nuts. They are made up of a spring to hold the nut in place during installation, a threaded screw hole, and a nut with side grooves that fit over the unistrut channel edge.
There are many types of spring nuts to meet different installation requirements, such as long spring nut, short spring nut, stud nut with spring, nut with washer, nut with wing, cone spring nut and so on. The most regular kind of spring nut is this one, nut with spring. It may be simply inserted and fastened inside a channel or strut thanks to the spring-loaded clip on its end. The clip offers support and stops the nut from slipping.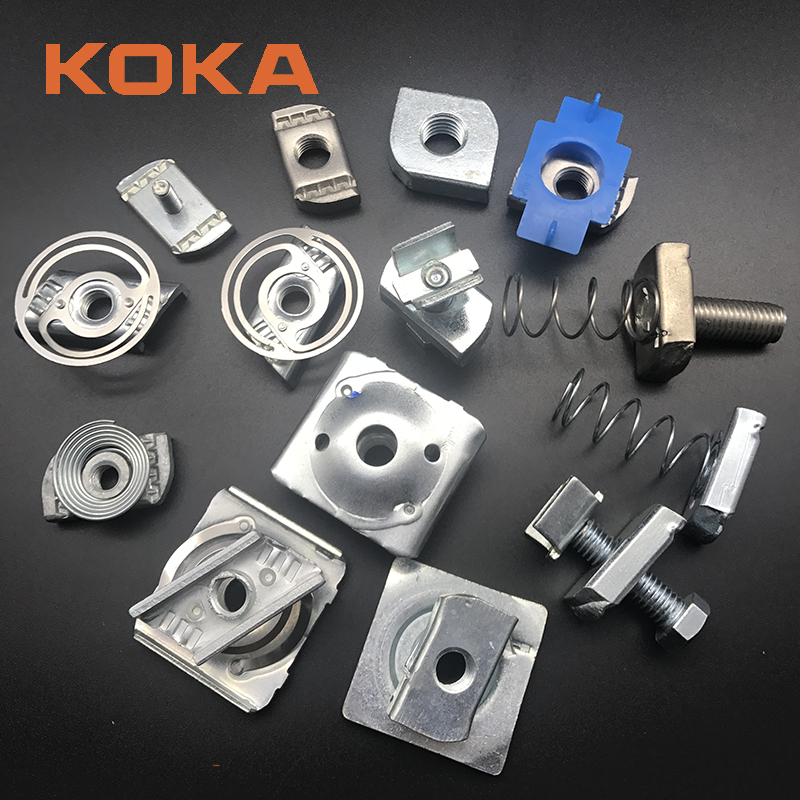 Different surface treatment processes also have different effects.
Stainless steel spring nut: Stainless steel spring nuts are resistant to corrosion. They are suitable for usage in wet or outdoor locations where normal steel nuts may be susceptible to rust or corrosion.
Electro-galvanized(EG) spring nut: In the electro-galvanization process, a layer of zinc is added to the nut's surface using an electrolytic method which make the spring nut prevent corrosion. Electrical Galvanized spring nut could be used in outdoor or mildly corrosive applications, such as rooftop installations, outdoor constructions, or settings with moderate humidity, EG spring nuts are frequently utilized.
Hot dip galvanized(HDG) spring nut: In hot-dip galvanization process, the nut becomes immersed in a bath of molten zinc to create a thick, long-lasting zinc coating. Compared to electro-galvanization, the hot-dip galvanization technique produces a coating that is stronger and more corrosion-resistant. In tough or very corrosive conditions, such as maritime applications, coastal regions, or industrial settings where exposure to chemicals or seawater is present, HDG spring nuts are frequently employed.
In construction industry, spring nuts are frequently used in build support system for pipes, conduits, cable trays, and other equipment, spring nuts are typically combined with channels or struts. They offer a threaded connection for mounting other components and are simple to insert and secure within the channel. In cable management systems, spring nuts are used to manage and secure cables, conductors, and conduits along channels or cable trays. To keep neat and orderly wiring schemes, they offer a way to attach cable clamps, hangers, or supports. In order to advance the project process more smoothly, contact us, it is necessary for you to choose the appropriate spring nut according to your requirements.